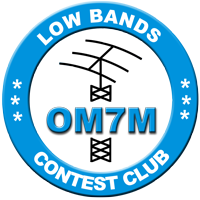 My first start in OK/OM contest.
15m was closed but 20m was wide open and many station called me from USA. After 10 hours of operation I was totally exhausted and tired. I took a break and sleep. Propagation on sunday morning was very unstable but I made a lot of JA,BV,9W etc. Thanks for calling me and congrats goes to Ruda,OK2ZA for his result. Looking forward for claimed results.
[SK]
Bol to môj prvý štart v tomto závode. Pásmo 15m bolo zatvorené, ale na 20-ke ma volalo veľmi veľa staníc z USA a Kanady. Po 10 hodinách som však bol úplne vyčerpaný a unavený. Asi za to mohla aj krátky spánok predchádzajúcu noc. Dal som si teda pár hodín prestávku a pospal som si.
V nedeľu ráno boli podmienky veľmi nestabilné, no aj tak sa mi podarilo spraviť viacero staníc z JA, BV, 9W atď. ďakujem za všetky zavolania a blahoželám Rudovi OK25ZA k jeho výsledku. Teším sa na konečné výsledky.
73
Martin OM4MM