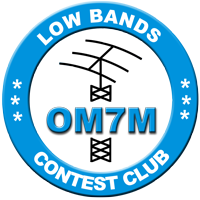 Windy and rainy weekend. This year we added a new stack on 20m 4/4/4 and a total of 27 elements. Antennas underwent complete reconstruction, renovated rotators, etc. But one wind destroyed a lot…
As you know, on Sunday a strong orcan hit EU. No AC outage, but damaged antennas, rotators even an outdoor toilet 🙂 . Inband antennas, second direction, new stack on 20m, wires antennas all these things were down. Interesting was, we turned 15m antenna of Run Station to make a quick multiplier from the south, but in a strong wind we could no longer turn back. So we went pile up south and made a dozen of ZS 🙂 . Interesting how many stations is there we only do not know about them.
Nice competition on livescore with our rivals LX7I and IR4M from EU. We were pulling each other legs whole weekend, but the finish was yours. Congrats! Simply it was maximum with this damaged setup. Hope to fix it by the end of NOV to be in full strenght. 73! and thanks for calling us!
Call: OM7M
Operator(s): OK2BFN OM2IB OM2KI OM3PA OM3PC OM4MM OM5MF OM5RM OM5RW OM5ZW
Summary:
| | | | |
| --- | --- | --- | --- |
| Band  | QSOs  | Zones | Countries |
| 160: | 129 | 13 | 71 |
| 80: | 842 | 26 | 100 |
| 40: | 1571 | 35 | 135 |
| 20: | 2589 | 39 | 148 |
| 15: | 1542 | 38 | 156 |
| 10: | 88 | 25 | 87 |
| Total: | 6761 | 176 | 697  |
Total Score = 12,763,260
Lubo, OM5ZW at OM7M