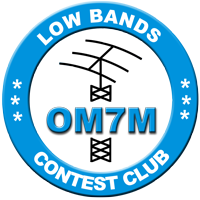 This year we have rebuilt feeding for our beverage system from one central
point. After some test during the CQWW(SSB,CW) we were not fully satisfied with our receiving on low bands. But we did not pay any special attention to that.Before the contest started we checked some other guys on the band to see how our receiving beverages are efficient. Milan, OM2KI was a reference station for us as we know he is using a couple of beverages and noise level at his QTH is excellent.
He worked number of JA's but we barely heard them. We were frustrated and at 21:30UTC half an hour before the contest started we spoke together that we would better go to a pub and take a beer rather then stay on band and be totally deaf. Miro OM5RW was trying to change some impedance transformers and other facilities but in reality it did not help. One noticable thing was that 150 degree beverage was quiet and showed normal behaviour of beverage antennas. I asked to Miro what's the difference compared to other 6 beverages? That one had separate grounding and was feeding 30m away of all others. Most probably it was the root cause of the problem and during the first night we remade the most important direction to NA. After this remake it was completely different world with much more directivity and low noise figures.
During the first night condx was quite good for this period of solar cycle. We had 820 QSO logged after the first night with 120 US/VE in the log and 34 states/provinces. In comparison with OK7K who was continuosly on cqcontest.net and we had 150K lead and it looked promising. Condx to the east was very poor during Saturday and we logged only couple of JA's. We hoped for better opening to NA pending that condx will change over the night. But it did not happened. We recorded some small peaks around the 00 UTC but for the most time it was worse than on Saturday. From 01-04 the band was mostly closed and hourly rate has decreased to 20 Qsos. Thus S&P was one and only way.
Sunday condx to east have been much better and we logged another 75 JA's. We recorded some other highlight moments too: VK2GR,VK6DXI,KH2/N2NL,NH0Z,XV2E,… Finally we ended up with a score of 1,2M (202 US/VE, 82 JA's). Some statistics will be posted on our web page www.om7m.org later on.
Anyway thanks for nice EU M/S competition and congrats goes to M/S teams: S59A, E7DX, DR1A, UA2F, UU7J, OK7K, OK5W..and others. Thanks for all QSO's and CU in ARRL DX!
73 Lubo,OM5ZW on behalf of OM7M